March 1st AND 2nd '08, Club Caliente, Halifax, NS
Laura will be flying in especially for this next incredible show from Cabaret Serpentine!
Featuring all-new talent, brand new choreographies and costuming, and many more exciting surprises.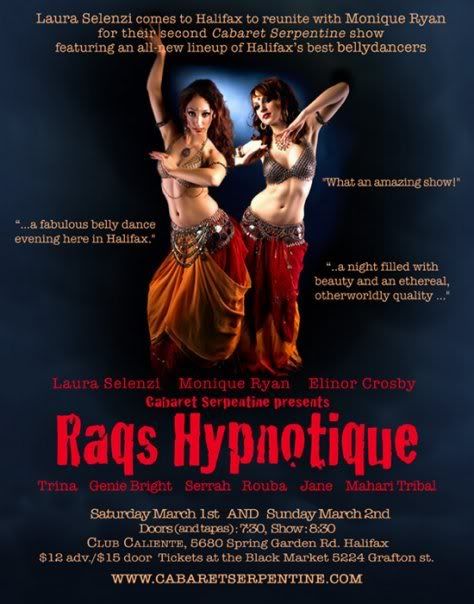 Details: SATURDAY March 1st AND SUNDAY March 2nd at Club Caliente (5680 Spring Garden rd.) in Halifax.
Doors at 7:30, Show at 8:30. Show length is about an hour and a half, with the option to stay and dance!
Tickets are $12 in advance, $15 at the door and will be sold at the Black Market Boutique, 1545 Grafton St. (902) 423-5724
We are very excited for this new show. We are also going to have a merch table at this night so you can buy hipscarves, dvds, costume bits and more!
Here is our exciting line-up:
Groups:
Cabaret Serpentine ft. Laura and Monique
Mahari Tribal ft. Monique, Lucy, Katie and Serrah
Soloists:
Laura Selenzi
Monique Ryan
Elinor Crosby
Jane
Genie Bright
Trina
Rouba
Serrah